Printer Options
R-Quest supports a range of printing solutions to fit every need. With the low cost of entry, the FlashJet 2 photo-quality inkjet printer provides great looking prints. The TEAC P55 offers the industry's highest quality dye-sublimation prints at a known cost per disc printed.
Also available is the Power Pro 3, a low cost per print thermal printing solution.
All printers are compatible with the TP-5100 Print Station and the entire range of TCP-7000 Series desktop publising systems.
FlashJet 2
InkJet
TEAC P55
Dye-Sublimation
Power Pro 3
Thermal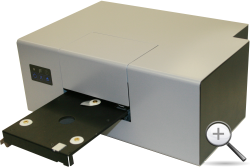 FlashJet 2
4800dpi Inkjet - photorealistic prints
4-color CMYK
HP Engine
Windows XP & Vista 32-bit Printer Driver
Windows XP, Vista 32 & 64-bit, Mac OSX, and Linux support through TrueNet LX/FX (when used with an autoloader)
Compatible with TP-5100 and all TCP-7000 Series Desktop Publishing Systems
TEAC P55
High Quality Dye-Sublimation
CMYK Printing with 'True Black'
Exclusive Versamax Ribbon - widest media compatibility and lowest cost per print
Fixed Cost per Print
Scratch and Water Proof, Fade-Resistant Prints
Windoes XP Printer Driver
Windows XP, Vista 32 & 64-bit, Mac OSX, and Linux support through TrueNet LX/FX (when used with an autoloader)
Compatible with TP-5100 and all TCP-7000 Series Desktop Publishing Systems
Also available embedded with the NS4500t
Power Pro 3
Black Thermal Ribbon for lowest cost per disc printing solution
Optional 3-color Ribbon
Rimage Prism alternative
Windows XP Printer Driver
Windows XP, Vista 32 & 64-bit, Mac OSX, and Linux support through TrueNet LX/FX (when used with an autoloader)
Compatible with TP-5100 and all TCP-7000 Series Desktop Publishing Systems