TCA-9000 Series Desktop Duplication
The TCA-9000 Series of duplicators provide both stand-alone and network attached duplication solutions ranging from 2 recorders with 220-disc capacity up to 8 recorders with 1000-disc capacity!
The robust, industrial-designed robotics combined with an easy-to-use yet powerful web browser-based user interface provides the ideal solution to duplicating CDs, DVDs, and Blu-ray (optional) discs, while controlling the system from your desktop! Because the system is controlled by your java-enabled web browser, it is platform-independent and there is no client software or printer drivers to install! You can also control these systems in stand-alone mode via the built-in LCD Touchpad and use them just like a disc copy-machine, no additional monitor, mouse or keyboard required.
Disc images can be named and stored on the system's internal hard disk and instantly recalled when starting a new duplication job. All TCA systems include a Batch Mode function to allow unattended copying of multiple master sequences.
The top of the line TCD-1800 includes 8 recorders and a 1000-disc capacity for the ultimate in long production runs and lights-out unattended operation.

TCA-9000 Series Brochure 8.5"x11" (2.3MB)


TCA-9000 Series Brochure A4 (2.4MB)
TCA-9200


2

Recorders
TCA-9450


4

Recorders
TCA-9800


8

Recorders
TCA-9850


8

Recorders
TCD-1800


8

Recorders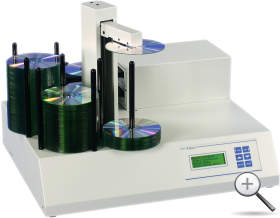 TCA-9200
2 Recorders
220 Disc Capacity
18x DVD / 48x CD
Blu-ray available
Simple LCD Touchpad interface
Small Footprint - fits almost any desktop
Built-in hard drive for image storage
Automatic disc type and format recognition
Gigabit Networking
TrueNet LX user interface - no client software required
E-Mail Event Notifications
TCA-9450
4 Recorders
550 Disc Capacity
18x DVD / 48x CD
Blu-ray available
Simple LCD Touchpad interface
Small Footprint - fits almost any desktop
Built-in hard drive for image storage
Automatic disc type and format recognition
Gigabit Networking
TrueNet LX user interface - no client software required
E-Mail Event Notifications
TCA-9800
8 Recorders
220 Disc Capacity
18x DVD / 48x CD
Blu-ray available
Simple LCD Touchpad interface
Small Footprint - fits almost any desktop
Built-in hard drive for image storage
Automatic disc type and format recognition
Gigabit Networking
TrueNet LX user interface - no client software required
E-Mail Event Notifications
TCA-9850
8 Recorders
550 Disc Capacity
18x DVD / 48x CD
Blu-ray available
Simple LCD Touchpad interface
Small Footprint - fits almost any desktop
Built-in hard drive for image storage
Automatic disc type and format recognition
Gigabit Networking
TrueNet LX user interface - no client software required
E-Mail Event Notifications
TCD-1800
8 Recorders
1000 Disc Capacity
18x DVD / 48x CD
Blu-ray available
Simple LCD Touchpad interface
Small Footprint - fits almost any desktop
Built-in hard drive for image storage
Automatic disc type and format recognition
Gigabit Networking
TrueNet LX user interface - no client software required
E-Mail Event Notifications