NS4500 - Corporate Publishing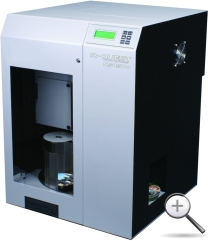 Featuring TrueNet FX, the NS4500 is a truly platform-independent disc publishing solution, and comes without the need to maintain an embedded Windows, Linux or Mac OS server!
The robust, industrial-designed robotics combined with an easy-to-use yet powerful web browser-based user interface provides the ideal solution to publishing across multiple computer platforms, such as Windows (32 & 64 bit), Mac OSX, and Linux simultaneously on the same network. Because the system is controlled by your java-enabled web browser, there is no client software or printer drivers to install!
The NS4500 Hardware provides:
Media-configurable 500-disc Input/Output capacity carousel
Up to 5 different media types available simultaneously
Lockable access door for media security
Mail slot output allows blank media to remain locked
Platform Independence - no server maintenance required
Fully integrated solution - just connect power and a network cable!
High-capacity photo-quality inkjet printing with individual Cyan, Magenta, Yellow and Black cartridges (NS4500i)
Highly durable photo-quality dye-sublimation printing using the embedded TEAC P55C Printer (NS4500t)
TrueNet FX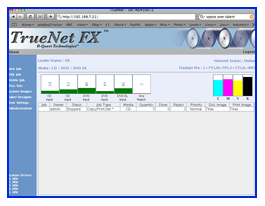 Imagine a corporate environment with hundreds of users, where the IT department is installing, maintaining, and supporting all those computers with client software, printer drivers and all the associated problems. With every new software release, the whole process starts over.
Now realize a publishing appliance that eliminates that maintenance need - the NS4500! Because all users access the system with the java-enabled browsers already installed on their computers, it doesn't matter if they use Windows (Vista, XP, 32 bit & 64 bit), Mac OSX or Linux! There is no need to install any client software or printer drivers, and users can start, stop, modify and monitor their jobs right from within their web browser.
TrueNet FX features:
Drag & Drop Mastering of Data, DVD Video & BD Video discs
Edit and update jobs in real time
Easily repeat or restart jobs with additional quantities
Control job priorities on a user-by-user basis
Change job priorities in real time
Import ready-made ISO images - even up to 50GB for Blu-ray!
Built-in Label Designer with dynamic user-defined form fields
Disc Label Serialization
Data Mail-Merge functions
E-Mail Event Notifcation
Role-based user security and access control
Full System Logging - accessible in real time
Label Design Lockout - ensures that users select a pre-defined corporate label
Up to 250 unique users, all with their own login and e-mail address
Quota-based jobs on a user-by-user basis
Customizable Low Media/Print Supplies thresholds with e-mail notifications
Dual firmware support provides system redundancy
API functionality
For more information, please download the NS4500 brochure, or ask your reseller for an online demo!