NS2100 - Network Publishing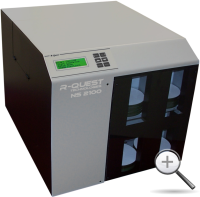 Don't be fooled by its clean, unassuming exterior. The NS2100 is as rugged and dependable as the R-Quest machines you already know and rely on, and our next-generation robotics add a whole new dimension of usability!
The NS2100 comes with your choice of a FlashJet 2 inkjet (NS2100i) or TEAC P-55 dye-sublimation (NS2100t) printer built right into the system. There is no complicated mounting hardware or assembly required!
With no software or drivers to install, the system is ready to use right out of the box. Simply load it with media, connect it to your network, and get started publishing! Burning CDs one job and DVDs the next? Don't worry about swapping out media. The media-configurable hoppers allow you to access both CDs and DVDs at the same time!
With the NS2100, you can...
Save countless hours manually loading and unloading discs
Burn and print discs simultaneously with the built-in printer
Publish discs from any computer on your local network
Master discs, create labels, and start publishing with the all-in-one TrueNet LX
TrueNet LX
Because the NS2100 is a publishing appliance, there is no need to install and maintain numerous software packages on each computer in your network. All users access the system with the java-enabled web browsers already installed (e.g. Internet Explorer, FireFox, Safari, etc.), so it doesn't matter if they use Windows (Vista, XP, 32 bit & 64 bit), Mac OSX or Linux! There is no need to install any client software or printer drivers. Users can start, stop, modify and monitor their jobs right from within their web browser!
Concerned about security? TrueNet LX includes comprehensive security features so that you can provide your users with only the access they need. Avoid costly mistakes and prevent surprises by setting up each user with quotas and other access options.
Publishing Features
Built-in Label Designer
Drag & Drop Mastering of Data, DVD Video & BD Video discs
Import ready-made ISO images - even up to 50GB for Blu-ray!
Customizable Low Media/Print Supplies thresholds with e-mail notifications
Edit and update job priorities, quantities, and more in real time
Easily repeat or restart jobs with additional quantities
Customizable e-mail event notifications
Security Features
Up to 5 unique users, all with their own login and e-mail address
Role-based user security and access control
Label Design Lockout - ensures that users select a pre-defined corporate label
Control quotas and job priorities on a user-by-user basis
Full System Logging - accessible in real time
Miscellaneous Features
Dual firmware support provides system redundancy for worry-free upgrades
Upgradeable to TrueNet FX, adding support for:

More Users
Easy-to-use Dynamic Form Fields within Labels
Easy-to-use Serialization
Easy-to-use Dynamic 'Mail-Merge' functionality
API Functionality
For more information, please download the NS2100 brochure, or ask your reseller for an online demo!